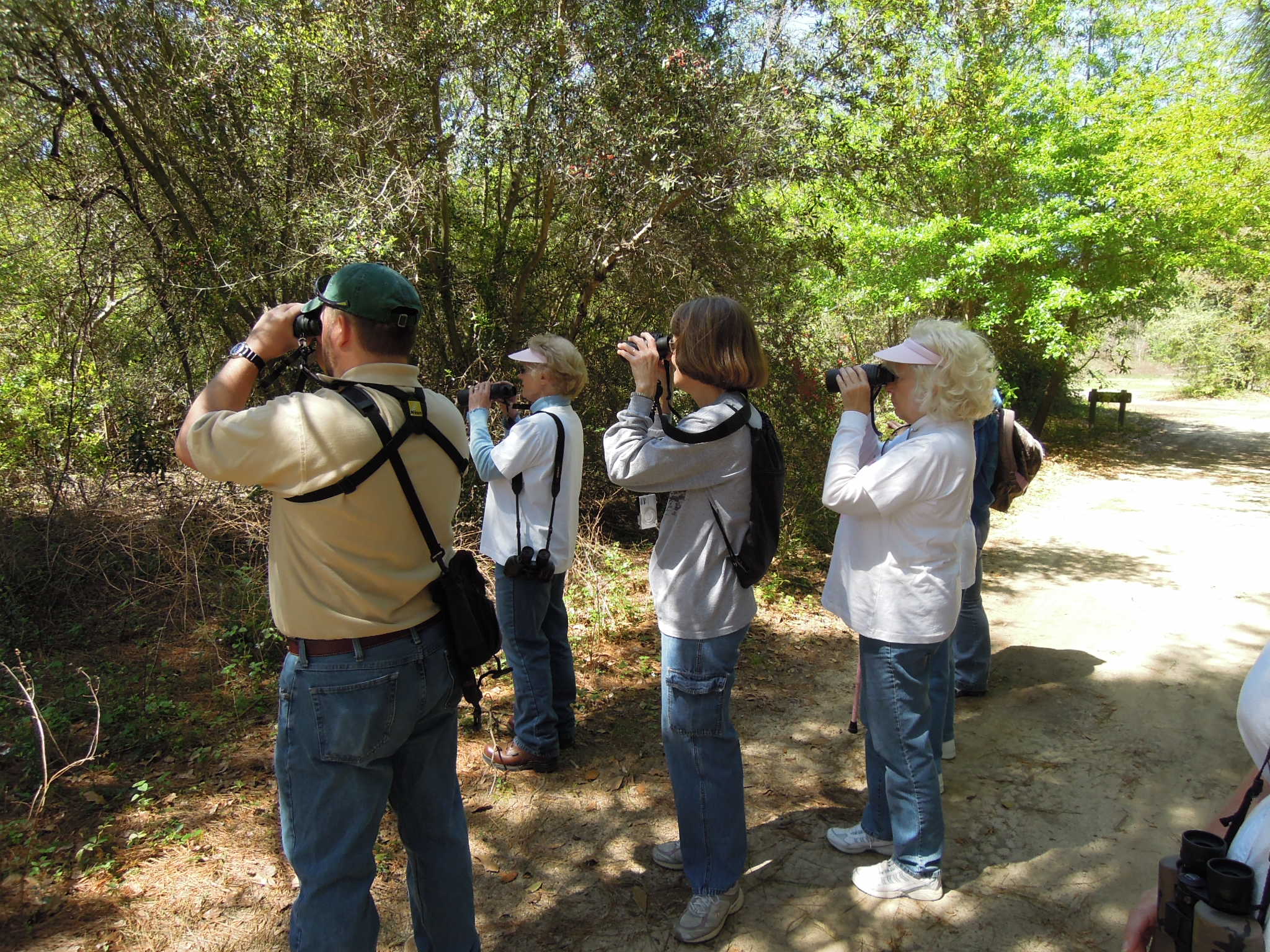 Coon Creek -- This tract is a stop on the Piedmont portion of the Alabama Birding Trail and offers the opportunity to view bald eagles, ospreys, and many other waterfowl species. 
Coosa -- This tract is a stop on the Piedmont portion of the Alabama Birding Trail and gives viewers the chance to see many songbirds, raptors, and game birds. This property has one of the last remaining populations of red-cockaded woodpeckers not on a National Forest.
M. Barnett Lawley Forever Wild Field Trial Area -- Visitors interested in birding on this property must notify the manager at least 24 hours in advance of their visit. Ongoing events or road conditions may impact when and where access is available.  Additionally, gates may be closed at certain times, and visitors will have to park and walk in, making sure not to block gates. Contact the facility at (334) 624-9952 or by email at bill.mason@dcnr.alabama.gov. 
Old Cahawba -- The black belt prairie offers unique birding opportunities found only in the central region of Alabama. Both the Old Cahawba Prairie Preserve and the nearby Old Cahawba Archeological Park are stops on the Black Belt Birding Trail. There are three parking areas and one hiking trail available to viewers.
Splinter Hill Bog -- Splinter Hill Bog is one of the stops on the Alabama Coastal Birding Trail. Together with the nearby Nature Conservancy Property, the Splinter Hill Bog offers birders some of the best wildlife viewing in the southern part of Alabama. This unique ecosystem allows people the possibility to see Bachman's, Henslow's and LeConte's Sparrows. The trails can be accessed from parking areas on County Road 47 and Splinter Hill Road.
Turkey Creek Nature Preserve -- The Turkey Creek Nature Preserve is a stop on the Appalachian Highlands Birding Trail and offers the possibility to see tanagers and many different warblers. Visitors also have the chance to see other wildlife, such as the vermillion darter, when the staff are having one the many weekend programs. The entrance to Turkey Creek is located on Turkey Creek Road in Pinson.
Walls of Jericho -- The Walls of Jericho serves as an addition to the Skyline Wildlife Management Area, which is site #41 on the Northeast Loop of the North Alabama Birding Trail. Watchers have the opportunity to view many different species and this is the only place in the state to see ruffed grouse. Hurricane Creek is the only location in the world to find the pale lilliput and Alabama lampshell mussels. It is also home to three imperiled fish species.
Wehle -- The Wehle Tract is an excellent site for birding. The day-use hiking trail provides access seven days a week to the Forever Wild portion of the tract. View recent bird sightings. On open weekends, visitors are  encouraged to visit Blue Heron and Alligator Lakes, which provide viewing opportunities for other wildlife watching in addition to birding. During these weekends, parking is available at Blue Heron Lake.